Who We Are
RADICAL COLLABORATION
It's about time.
WE ARE A NONPROFIT NETWORK THAT USES TIME AS CURRENCY TO SHARE SKILLS AND TALENTS. TimeBank Santa Cruz uses software to match the human resources of ordinary people with the unmet needs of others. Any Santa Cruz County resident willing to maintain a high level of trust is invited to join.
Our mission is to build social capital via civic engagement in order to enhance opportunity and access to resources in Santa Cruz County. This powerful sharing-economy infrastructure operates at low administrative cost: the members themselves provide the services.
Everyone's hour is of equal value. No money changes hands for services provided. TimeBank Santa Cruz is not a barter system nor does it deal in commodities or capital. This is the sharing economy at its best - not profit-driven, not share-washed.
TimeBank Santa Cruz is not a marketing platform for businesses. It is not appropriate to offer services with the intention of reaping paid employment from the interaction.
"TimeBanking differs significantly from barter in that it doesn't incorporate commercial exchange or price. Price values scarcity and devalues what makes us most human – the ability to come to each other's rescue." Edgar Cahn, Founder of TimeBanking.
WHAT OUR MEMBERS SAY
"TimeBank Santa Cruz is an incredible social organization that offers unlimited resources through the power/knowledge of people." James Aschbacher
"TimeBank Santa Cruz and its creative, dedicated members are contributing to the quiet revolution: bringing people together to share." Dr. Cecile Andrews
"The TimeBank is a great alternative local economy. It's a new economic model that doesn't require cash, builds community and provides needed services." Monica Larenas
"The TimeBank has established a group of committed individuals with diverse skills who will step in to fill gaps in services during times of crisis." Cristina McCutcheon
SERVICE CATEGORIES
Arts, Crafts and Music
Business and Clerical
Care/Companionship
Community Activities
Computing/Electronics
Education and Languages
Food Preparation
Health and Wellness
Home and Garden
Sports and Leisure
Transportation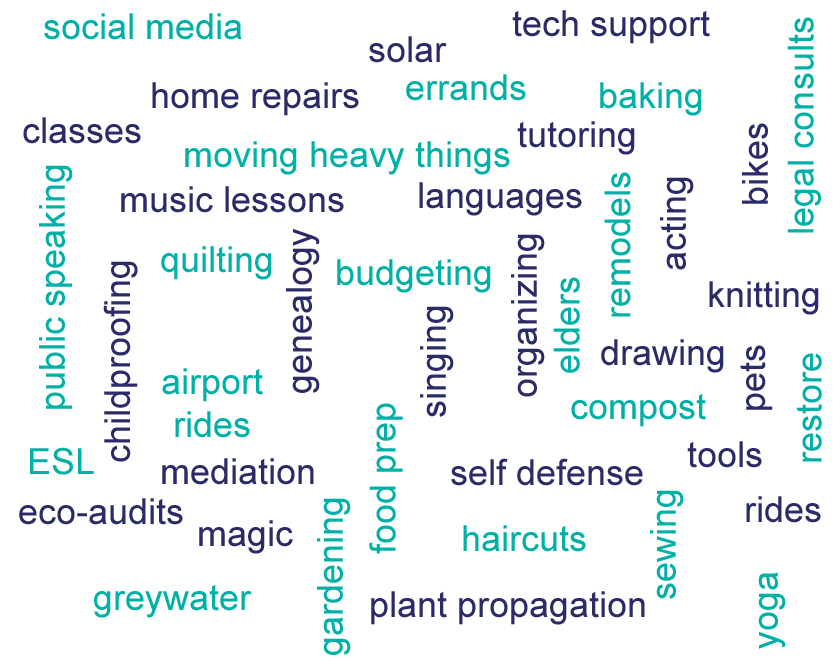 TEN SAMPLE OFFERS FROM THE TIMEBANK'S CURRENT ROSTER
Graphic Design
De-cluttering
Native Plants Tutorial
Genealogy
Meal Preparation
Local Rides/Airport Rides
CranioSacral Therapy
Gardening Help
Public Speaking Prep
GRASSROOTS INITIATIVE
TimeBanking taps a hidden and underutilized local resource – the ability and willingness of individuals to provide services to each other. No other community initiative is comprehensively matching County residents' specific skills and talents to others' needs.
More than 600 TimeBankers have exchanged 25,000 hours of service since we were established over six years ago. Independent Sector research valued a California volunteer hour at $27.59 in 2016. By that measure, the TimeBank has already contributed over $689,750 to the local economy. Our admin costs are very low. We're proud of our Return On Investment.
We're considered a star on the national timebank scene for having launched successfully with a rich roster of services. TimeBanks nationally use the same software infrastructure for civic engagement programs: hospice services (Rhode Island), disabilities access (Wisconsin), aging-in-place (Hawaii). We belong to a Coalition of Timebank Coordinators who share best-practice resources.
A COLLABORATIVE MODEL
TimeBanking is intrinsically collaborative. By working with other nonprofits, we are able to skillfully and quickly reach the vulnerable. TimeBankers helped with these nonprofit projects:
served food at the Grey Bears Holiday Dinner
made soup for the Warming Center
volunteered at the Restore
taught for Shared Adventures
repaired appliances at Habitat's Repair Cafe
taught at the Reskilling Expo
OUR DEMOGRAPHICS
TimeBankers are a diverse mix of ages, of homeowners and renters, bicultural competencies, niche expertise and advanced degrees. Our two largest demographic groups are families with young children and retired people.
| | | | | | | | | |
| --- | --- | --- | --- | --- | --- | --- | --- | --- |
| Age | 20s | 30s | 40s | 50s | 60s | 70s | 80s | 90s |
| Members | 5 | 4 | 10 | 12 | 4 | 17 | 10 | 1 |
HOW TIMEBANKING CREATES SOCIAL BENEFIT
TimeBank exchanges:
provide cash-free services
free up funds to be saved or spent in the local economy
provide mentors and job-skill consultations
provide classes, tutoring and consultation
enhance social ties which combat depression and predict wellbeing
build relationships of trust that reduce potential for violence
help establish a network of individuals committed to sustainable futures
promote skills that conserve water and promote alternate energies
reduce carbon consumption through shared transportation. Studies show that timebanking itself reduces carbon consumption: when people belong, they consume less
TIMEBANKING STRENGTHENS THE SAFETY NET
TimeBank Santa Cruz is perfectly poised to combat poverty, anticipate emerging social needs and effectively utilize available resources in our County. It's a best use of resources that creates access to untapped capacity and delivers services at low-cost. The TimeBank is a powerful sharing-economy infrastructure that operates at low administrative cost: the members themselves provide the services.
WE OPERATE AS A SMALL BUSINESS
Administrative roles include member recruitment and member services, events coordination, web presence oversight and tech support, finance, and program development. Our sources of funding are member dues, sponsorship donations, grants and sales to the public.
RESKILLING EXPO BOARD OF DIRECTORS
President: Rebbie Higgins, Operations Coordinator, Boys & Girls Clubs of Santa Cruz County
Vice President: Bill Turner, Engineer
Chief Technical Officer: Mary Edith Ingraham, Drupal Programmer
Director: Bonnie Linden