Programs
Graywater
Laundry-to-Landscape Systems are very inexpensive to install, regularly recharge the aquifer and save the average household a minimum of 5000 gallons per year. The TimeBank has presented three public Graywater Workshops and installed four Laundry-to-Landscape Systems at members' homes. TimeBanker LeAnne Ravinale is a certified Graywater Installer. http://greywateralliance.org
Education
TimeBank Santa Cruz is a project of the Santa Cruz Reskilling Expo, a 501C3 educational public charity that offers sustainable-living skills education to the public. Pop-up reskilling workshops are taught at members' homes and other venues. Classes are free to TimeBankers and low-cost to non-members. Recent workshops: Power Tools for Women, Good Habits of Sleep, Winter Wellness and Graywater for the Home. Events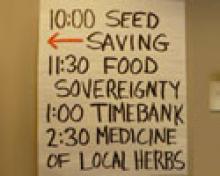 Restorative Justice
TimeCredits can be used to pay fines. The Reskilling Expo is registered with Community Options, a court referral alternative sentence "community service" program. Contact here: 501 Cedar St # A Santa Cruz, CA 95060‎ ‪(831) 423-4592‬‬‬
Tool Library
TimeBankers make their tools available to each other. Sample Inventory:
Band Saw, Drill Press, Post Hole Digger, Juicer, Ice Cream Maker, Food Processor, Inflatable Kayak, Sawzall, Sewing Machine, Bike Rack and Wheelbarrow. Some tools are loaned out; others are used at the TimeBanker's home.
Arts and Culture
TimeBankers share their skills and talents. Sample Offers: Art Career Consultations, Acting Coach, Threshold Choir, Literary and Business Editing, Mountain Bike Trails Instruction, Public Speaking Preparation as well as lessons in Photography, Voice, Quilting, Realistic Drawing, Piano and Basic Music Skills, and Yoga.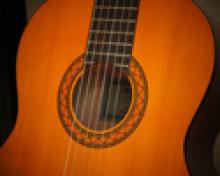 Transportation
TimeBankers ride-share. They take each other to the airport. They do errands by car and bike for each other. They help transport what's heavy – loads of furniture, appliances, firewood, chicken coops, beehives, pianos. And, aware of fuel costs and consequences, they timebank in neighborhood hubs.
Little Libraries
We've designed and installed one Poetry Box and three Little Libraries as Resilience Builders. These curbside Sharing-Economy Amenities promote neighborhood cohesion as well as literacy. Library addresses: 1973 42nd Avenue, 702 California Street. The third Library will be installed soon.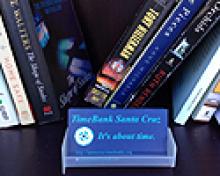 Seed Library
The Santa Cruz Grows Seed Library is a free urban seed project committed to increasing the capacity of our community to feed itself wholesome food. It's located at the Live Oak Public Library, 2380 Portola Drive, Santa Cruz and is maintained by TimeBankers. Seed Library
Giving Circle
Gifts are offered to anyone in the TImeBank as a way to build relationships of gratitude and obligation, as a way to share our wealth. Gifts are simply bestowed with no expectation. No return gift should be specified in advance or coerced thereafter. Recipients may want to return a gift to the giver or gift onward to someone else. Members claim a gift by contacting the giver. Gifts available are listed on the member site. Examples of gifts exchanged: jewelry, honey, fruit, plants, books, water kefir grains, jams and jellies.
ElderHands
Our ElderHands program matches TimeBankers with elderly folks who need a helping hand with minor home repairs, chores and errands, pet care and transportation. Our goal is to foster neighborly social relationships that relieve isolation and the stress of unmet needs. Relationships of trust help elders age in place successfully.
ChildCare Exchange
Our members earn TimeCredits for the childcare and playdate exchanges they do with their trusted friends. Their TimeCredits can be spent on ANY service in the network. We like offering families this useful way to participate in the sharing economy. Here are examples of services families might use: Tech Support, Home Repairs, Meal Preparation, Tutoring, and Music, Art and Language Lessons.
Community Cupboard
Our Community Cupboard is at 1973 42nd Avenue. Rules of Engagement: donate items you would actually eat or use yourself. Soap, shampoo, any household basics also welcome. Because one in five people in Santa Cruz County is food insecure. Take what you need. Share what you can. We love reciprocity.